Adult Lifestyle Sex & Disabled – Wheelchair Accessible Adult Shop
Wheelchair Accessible Adult Shop – The majority of adult shops in Australia are located on a second floor or basement premises. Meaning that before they've even opened their doors of a morning they're restricting access to able bodied individuals.
This is partly due to local government regulations which prohibits minors having easy access to the adult store. As such, locations of adult stores that don't have stairs and are wheelchair accessible are few and far between. Or alternatively require great distances to travel to get to them.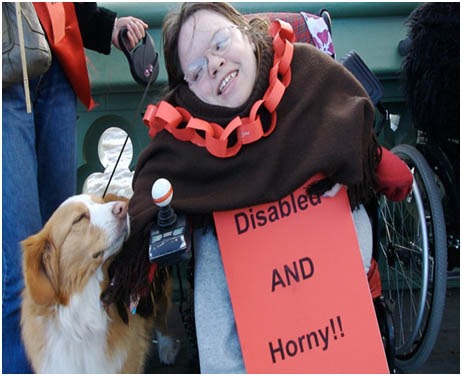 Wheelchair Accessible Adult Shop
At Adult Lifestyle Centre Kogarah we know that if a person is not able bodied then they can still enjoy the benefits of a healthy and active sexual life.
Our Kogarah location is one of the few in NSW, Australia that is located on the street level with no barriers of entry.  And still located within the area of a capital city, Sydney. Patrons who require the use of a mobility device do not need assistance to enter the location. Store has been set up with wide aisle, to assist with the ease of navigation throughout the store.
Kogarah also has a wide access driveway to facilitate ease of entry for a mobility impaired client.
Touching Base
At Kogarah, and indeed all Adult Lifestyle Centres, we believe in the philosophies of Touching Base Inc.  Touching Base is a charitable organisation, based in Sydney NSW Australia. It was developed out of the need to assist people with disability by providing access to sex workers in order for them to connect with each other.
Using their own words they 'focus on access, discrimination, human rights and legal issues and the attitudinal barriers that these two marginalised communities can face'.
All Inclusive
Members of our community, unless you identify as young, white cisgender and heteronormative, still receive stigmas and stereotypes that list them as asexual and a hindrance.
This list includes those of diverse sexuality, mature gay men and lesbians. People with physical and mental disabilities and even interracial and intergenerational couples.  At the end of the day, people that have a physical or intellectual disability still lead active fulfilling lives. While having the same sexual urges and desires as everyone else.
They do not let their disability hinder them
But in some regards the majority of society still have a negative view when it comes to the sex and sexuality of the disabled.
People with physical or intellectual disabilities in today's society are often regarded as non-sexual adults. There, sadly, is a misconception that people with disabilities have no arousal. Since they have a disability they do not want to engage in sexual acts.
Through general society, their health care workers. And even in some parts their family they are often regarded as asexual. Due to the nature of their disability are often unable to find sexual fulfilment.
Sexual expression is a basic human function
It is not limited to those who are able bodied. Indeed that is one of the founding statement that has been made with the UN Convention on the Rights of Persons with Disabilities (CRPD).
People with disabilities want to be viewed like normal human beings.
Unfortunately, as with anything outside mainstream society. They have attained a recurring stigma which sees people with mobility issues and disabilities, marginalised.  Fact is that people with disability still have sexual needs and desires and long for the acceptance that they are still sexual beings.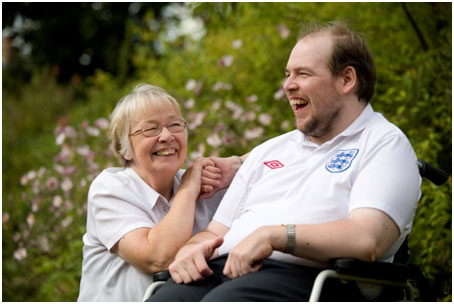 There are many ways that someone with a mobility issue could still have sexual pleasure. Which includes toys and the assistance from sexual helpers or occupational therapists.  An adult toy could be of great benefit because it helps achieve orgasm and increase arousal. Further, the vibrations from the toy could help stimulate nerve endings and reach sensitive spots they may not have access to reach themselves.
There are adult sex toys for couples that bend so they can help reach sensitive spots, and toys with wireless remote controls so users could have an easier time controlling their toy from a distance.
In New South Wales, prostitution is decriminalized
Some physically or intellectually disabled individuals rely on their services for that all important touch. An intimate touch they might not have gotten before. This all important touch may also bring upon a new found confidence and help mental ease. By providing them with access to intimacy that they may not have had otherwise.
Being with another human intimately it may bestow a new found confidence level that gives them the emotional support to try new things and break out of their shell.
Sex and intimacy can also have a calming effect
On a person's attitude and behaviour. People previously deemed to be difficult to work with, may find themselves behaving in new and profoundly different ways. For the most part, it has been reported that parents of children with disability are very happy that there are such services for their children. Because they do not want their children growing up without the ability to lose their virginity.
In countries like Australia and The Netherlands, citizens with disabilities are eligible for government assisted funds to help cover the cost of 12 sexual service visits per year.
This is a start. By helping disabled members of the community have access to sex workers and it is something which fits within the Adult Lifestyle Centres Ethos and which we wholeheartedly support.  Next steps include breaking down the assumptions that disabled people should not have sex. Or even a partner and seeing sexual aides being supported through government assisted funds.
At Kogarah we see many committed couples entering our store
One has a disability and the other has full mobility, and yet they still lead fulfilling sex lives. This may have resulted from an unfortunate accident. Or they simply might have fallen in love despite their differences. Either way, they do face challenges that other couples may not ever have to face.
After some trial and error in sexual positions they will discover what works for them and take advantage of a full and active sexual life. These couples report being just as happy in an able-bodied and committed relationship.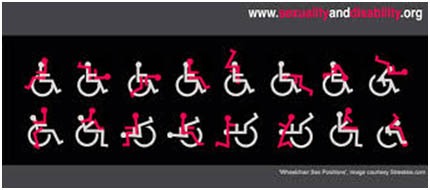 Indeed, ideas such as able-bodied and disability shouldn't even be considered when it comes to relationships and just serves to highlight the stigmas that they face. What should be acknowledged is that their challenges are different in comparison to other couples and often we hear stories of the non-disabled partner finding even more security and joy being in this type of relationship.
Even if someone is constricted to a wheelchair, there are a multitude of sexual positions they can still enjoy.
Sex is a very creative art
With some creativity and possibly some assistance with supports, proper penetrative sex can still take place. This is partly why Adult Lifestyle Centre at Kogarah exists, is that we saw a lack of service towards the disability sector and we aimed to not only fill that void, but to ensure that it spread across the industry. Kogarah has been set up with this inclusive aspect in mind, and as such we see clients come through from all over the state.
At a size of over 400 metres, our Kogarah store is one of the largest stores within the Sydney Metropolitan district and has been catering to clients for several years. This has been backed by our professional staff and other stores which have been decades of cumulative experience.
Unfortunately, there is still a stigma attached to sex and the disabled which needs to end.
The only way it shall end is when society realises people with mobility or intellectual disabilities want to lead normal sex lives. We must promote disability positivity which highlights the positive facts over the negative. People with disabilities should have a quality of life at par with people who do not have disabilities and sex is just a normal part of life.
They do not need to hide their disability or be ashamed of it, but rather embrace it and accept who they are- everyday people. This is the just one of the aims of providing inclusivity and accessibility to our Kogarah Adult Store.
"We're all one car accident away from being in the same position as these guys. Tomorrow we could all wake up out of coma and not be able to eat let alone have sex or touch ourselves."

– Rachel Wotton.