Personal Lubricants And Arousal Oils
Lubricants and Arousal Oils can help your sex life.  Lubricant is an essential item for everyone who wants an enjoyable sex life. It is the tonic to many of the most common issues surrounding sexual enjoyment. Amongst the many things it can be used to assist with includes vaginal dryness, getting rid of friction, increased comfort and sensation.
Most importantly it helps prevent the breakage of condoms during sexual intercourse.
LESS FRICTION= LESS CHANCE OF BREAKING A CONDOM DURING SEX!
Using Lube in tandem with a well fitted condom reduces your chances of contracting STIs. Because using these products together mean the condom is less likely to break. Lowers the chance of the genitals to be injured and developing the sores through which STIs can be transmitted.
HAVING PROBLEMS GETTING IT IN ‐ USE LUBE 
The reason Lubricants are an important aspect of a proper sex life is because they reduce friction when having intercourse or masturbating. Lubricants can be applied to adult toys to help ease insertion and make the experience more pleasant. If you require a product for activities that may involve stretching please ask our staff to show products that are more suited for this type of enjoyment.
CAN BE USED IN FOREPLAY 
Lube can be the catalyst for you alone or with your partner to get into the sexual mood and start the process of attaining climax. Lube increases sensitivity in the genitals and this can be the spark that creates your night of pleasure.
There are two main types of lubricants, water based and silicone based.  

Water-based lubricants
Are water-soluble as the main ingredient is water. The texture is usually smooth and slick and does not leave the kind of mess as can be experienced with silicone based lubricants. Washing water based lubricants off skin is easier than silicone based; simply a little soap and water will get it off your skin and bed sheets.
Water based lubricants are designed to be condom compatible. These lubricants may need to be reapplied more frequently than silicone based products as the water particles tend to evaporate faster. This does mean they can have the downside of feeling sticky.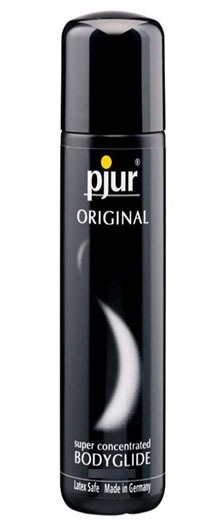 Silicone Lube
Lasts longer than water based lubricants as the silicone properties are harder to break down. But, the disadvantage is Silicone based lubricants can't be used with silicone based toys.  Reason for this is the silicone will counteract with the silicone in the toy, and make the material hard and brittle.
Keep in mind some people do get reactions to Silicone based lubricants and it can cause an irritation. Silicone lubrication can more difficult to get off skin and bed sheets but many people prefer it because they get greater levels of sensation from these products.
One of the big new trends in lube is the rise of Organic lubes.
As we all try to lead healthier lives and try to minimise our exposure to harmful chemicals; lube manufacturers have listened to the demands of customers and have developed products that contain LESS chemicals.
Warming Lubricants
A fantastic to use during foreplay and sexual intercourse.  When you apply a warming lubricant it creates heat in the targeted genitals and this can enhance the sensations during sexual play.  Warming lubricants can be used with a sex toy and also for masturbation to intensify the pleasure. C
Cooling lubricants
Like warming lubricants provide added pleasure to the user.  Cooling lubricants will give off a cooling, tingling sensation when applied that can be extremely pleasurable. Some of the products use their cooling properties to delay climax while still adding extra sensation. Cooling lubes are also usually condom safe.
Flavoured lubes
Mostly water based lubricants that come in a variety of flavours including chocolate, strawberry, cherry, watermelon, mango, cotton candy and many more. These products are non‐toxic and are harmless if ingested whilst enjoying the fun sure to be created by these sweet smelling sexual stimulants.
Anal Lubes
Not everyone will need to use lubricants for masturbation. With anal intercourse it is virtually needed to allow an enjoyable experience for both partners. Anal specific lubricants have also been developed to ease penetration during play with anal sex toys. The reason they are a necessity is that the rectum does not make its own lubricant like the vagina does.
Certain anal lubricants contain benzocaine, which gently numb the anal region to reduce the pain for beginners starting out on their experimenting with anal sex. Other products are specially formulated to allow stretching of the anus for those who are more experienced and like a challenge.
Arousal oils for females
We are currently showcasing a product aimed at enhancing female arousal called "on". This product is not a lubricant. But what it does do is stimulate the nerve endings on the clitoris and provides females with a buzzing or tingling sensation which customers have reported to love.
All you need is a few drops and the fast acting formula will keep you buzzing for an age of sexual enjoyment. Give it 30 seconds to kick in and the magic starts to happen.
For a woman who is having troubles being aroused, this would be the perfect product for her to feel the magic and enhance the experience for her and her partner. So buy some for yourself or the woman in your life and use its exceptional stimulation to regain that sexual passion.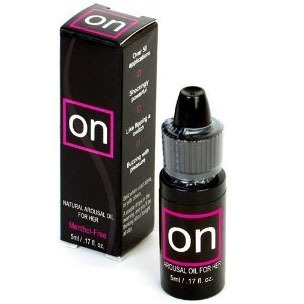 On is free from potentially irritating or harmful ingredients like preservatives, parabens or menthols. This product is formulated without artificial flavouring or scents and comes in three strengths; lite, original and ultra.