Guide To Buying A New Sex Toy
Buying A New Sex Toy is one of the most personal things that you can do, and it is an incredibly individual and personal experience. It's not something that should be taken lightly as it can affect such things as your happiness, relationship. Even your sexual spirituality as you embark on your quest for the perfect sex toy.
It won't be the same for all. Especially if you're just starting out, you may have no idea as to where to start, what to look at or even what it is that you're looking at. You might find yourself very confused.  Same can be said of more experienced users as well. When they're looking for that something extra or something specific that fits their needs and individual desires.
Everyone likes different things
Seeking and craving different sensations and a toy is an extension of this and should not be a decision that is taken carelessly.
Our staff at Adult Lifestyle Centres will listen to your requests and your concerns and be able to assist you to the very best of their ability. With their considerable wealth of knowledge in ensuring that the toy you have selected is the one that best fits your needs.
We also understand that the toy that best fits your needs may not be the most expensive and luxurious adult toy in the store. Nor may it be the cheapest toy in the store and our sales ethos is to ensure that you leave happy. Not just with an expensive toy that you may or may not like.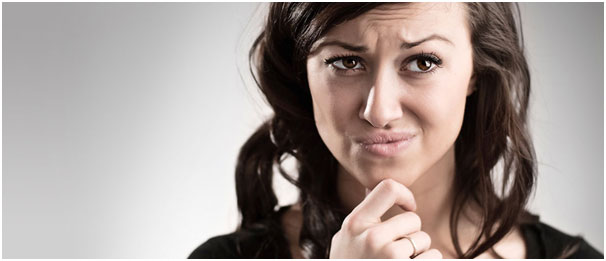 Adult Lifestyle Centre Ethos
It is this ethos which sets Adult Lifestyle Centre staff apart from other stores which run on commission-based sales. We understand that a happy customer will most likely come back. As opposed to a customer who has spent a small fortune in our store made it home. And are not as satisfied with their product as they should be.
What you'll find in this article are some things to consider when buying a toy. It might be your first toy, it might not be your first toy, but these considerations remain the same.
The thing is that shopping for adult toys can be very similar to dating. There can be awkwardness, it might be overwhelming and how can you tell the difference between a good quality toy, and a dud.
At Adult Lifestyle Centres we make it our mission to make it a comfortable experience. As well as an informative one. We will provide you with the information that you need so that you can make an informed decision about the toy that you are purchasing.
Consider the toy to be an investment, an investment into your personal pleasure. When you consider it like that then you'll find that your shopping experience will change slightly, and hopefully with a much better outlook.
Everyone can use toys, even couples and a lot of people that you wouldn't think use toys absolutely love toys. At the end of the day we, as humans, are constantly seeking pleasure. There is nothing in that which should cause embarrassment. When purchasing adult toys we always hold your enjoyment, privacy and safety paramount.
To help you on your journey we have provided a list of things that you should consider before purchasing a sex toy. Or even think about before you walk into one of our stores. By having this information, you'll be more informed and be able to make a more appropriate choice regarding your sexual pleasure.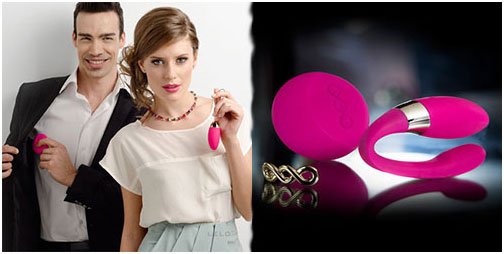 Insecurities And Fears
This is the most important aspect that you will need to deal with before you even consider buying a sex toy. It's simple; you don't enjoy sex when you're stressed and anxious, and you are definitely not going to enjoy a sex toy if you're feeling embarrassed about owning one. In order to enjoy new sexual pleasures you're going to have to move beyond the insecurities and fears of owning one. Carol Rinkleib Ellison, Ph.D., author of "Women's Sexualities.
Generations of Women Share Intimate Secrets of Sexual Self-Acceptance" has spent many years as a sex therapist, over 40 years in fact, and has a wealth of knowledge when it comes to sex toys, and she has come to the conclusion that each person's fears and insecurities regarding sex toys are as personal as they are unique.
It's ironic because people are more than happy to consume sex films and erotica, yet when it comes time to a physical manifestation of that it becomes a little too much. For some people, the idea that it's not a natural breathing individual is the concern that they have when it comes to sex toys. They find the idea of something inanimate being able to provide pleasure as confusing and mind-boggling.
This is from the view that they'd been brought up to believe that only a partner is responsible for making you orgasm (remembering some people were brought up to consider masturbation as a sin).
Insecurities About Sex Toys
For others, the insecurity lies in the belief that they'll end up in a similar predicament to Charlotte on Sex and The City. They will become so accustomed and addicted to the sensations that a vibrator provides. That in the end it won't matter if they have a partner or not, because they believe that their bodies will become desensitized and not respond to human touch in the same way anymore.
In comparison men tend to feel a little threatened by the presence of a sex toy
They might feel embarrassed that they seem to not have the skill to create mind blowing orgasms or they'll be jealous that something else needs to be involved. A lot of these fears and insecurities centre on the idea of self-worth and the belief that a toy will somehow adversely affect the relationship; what people often ignore is the idea that a person can still cuddle, kiss, give compliments and take you out on dates.
A sex toy can't do that. Sex toy cannot be a replacement for a living human being, and a sex toy is not meant as a replacement.
A sex toy should be considered a dessert
You go to a restaurant for the main meal, and dessert is optional. The sex toy is not essential in love making but what it can do is add a level of intensity by stimulating the erogenous zones that people may not know existed, or how to find. That is by no means a reflection on their capabilities or skills in the slightest. A sex toy is therefore a supplement to sexual activity, not a replacement. C
onsider what your fear or insecurity is, and work out ways to overcome it, if you can't – then it might just be time to come into a store and check things out. It might be the push that you need to overcome your fears and insecurities once you banish the stigmas and assumptions that you have regarding sex toys, at the very least you've now considered it.
Alternatively, think of it like this, you're considering a sex toy and reading this website, you've already taken the first step, and what's it going to be to take another?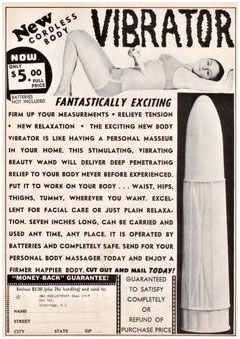 What You Want It To Do
Things have changed from 20 years ago. This might seem an exceptionally broad statement, but it's generally one of the first questions that you'll be asked. When thinking of a vibrator, you might automatically assume that it's a giant lifelike penis that vibrates. This might have been the case many years ago, but there are now ranges of toys that are specifically designed to not look like this.
Whilst you might be interested in a phallic like vibrator because of its association with realness, you might want something a little more. This still isn't helping in answering your question though, so perhaps we can break down this question by having you consider what kind of stimulation you like.
During masturbation or sexual activity, where do you get the most pleasure from?
Is there a specific focus on the clitoris, or do you prefer stimulation to the g-spot, perhaps you want both!
If you're unsure by what we mean when we talk about g-spot stimulation, g-spot stimulation during penetrative sex is most often achieved through the girl being on top and having the penis enter at an angle, upwards towards the tummy.
You'll know if you like g-spot stimulation if there's specific angles and positions that you enjoy the most yet aren't quite sure why.
Perhaps you like intense and localised sensations on specific parts of the body, or you might find great pleasure in sensations that are spread across the body such as massages. If you're unsure about this one, consider where you like your partners tongue to be during oral sex.
Do you like it centred on a specific location?
Or do you like it more so when they're giving broad strokes of the tongue in a wide general area. One of the last things that you might want to consider – is if you have sex a certain way each time, or do you find great arousal in variety? If you like variety you might be after a toy with multiple settings and function on it. Once you have thought about these considerations, you can begin to look at the type of vibrator or sex toy that you might be interested in.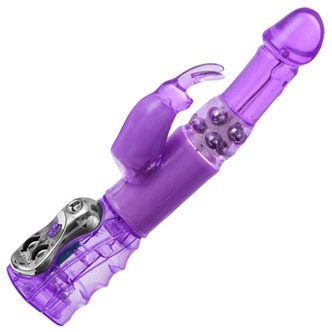 There are generally considered to be four types of basic vibrators, and these can be attributed to the parts of the body that they stimulate. In this regard there are internal, external, g spot, and dual action vibrators – with a dual action vibrator having both an internal and external component for maximum stimulation. If at this point you're still confused, then we recommend going with an internal vibrator for the versatility.
If you're not sure what you like, go with something that can do multiple things. So that when you next go to a sex store you'll be in a better position to differentiate between what you like and what you don't like.
An internal style vibrator
Is good in this regard, because just because it's considered to be an internal vibrator doesn't necessarily mean that you have to use it internally, indeed you could focus the vibrations on the outside as well. Just make sure that you're selecting one with which you find the girth to be comfortable and satisfying.
Don't go shopping when you're horny, because you might find that your eyes are too big for your orifice!
Materials
Congratulations, if you've made it this far we can assume that you have conquered your fears and that you have selected a type of vibrator that best fits your desires. Now we get to consider the materials.
Below is a list of materials most commonly used on sex toys.
Glass
They are beautiful sex toys, and it is partly this which has helped them become increasingly popular. Glass sex toys are firm and rigid and will not bend. They have many of the same qualities as metal sex toys.
Glass sex toys, like metal, are unique in the sense that they can be heated up or put in ice to provide a cooling sensation for those interested in temperature play. If you're worried about the toy breaking, don't panic. Glass sex toys are made of an extremely durable material known as borosilicate and will they will not shatter if they are dropped.
If they're not going to shatter when they're dropped you can rest assured that your muscles, no matter how strong and how often you work out your Kegels, will not be able to break the toy during use. Glass sex toys are also exceptionally easy to clean owing to their inability to retain bacteria. You'll find Glass sex toys to be compatible with both silicone and water based lubricants and they will be odourless and tasteless.
Though, we do advise to use a silicone lubricant simply because we love the versatility of silicone.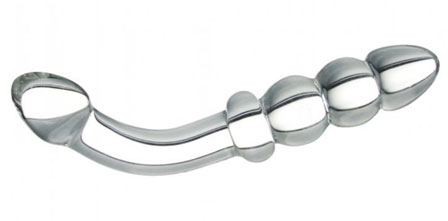 Jelly Rubber
An extremely cheap material and has been used to in the production of sex toys for years. Recent, and confusing, arguments have centred on their safety however, with the suggestion that phthalates and chemicals which are used to make the rubber soft, may be harmful to the body. Rubber jelly toys should always be used with a condom just to be safe, and they should never be stored next to other toys as the materials will react and they will melt.
Not all jelly toys use phthalates and chemicals and there are now Body Safe Rubber variants being sold which have the same qualities as Jelly rubber, just without the chemicals – so make sure to check the toy that you're considering or ask the staff member. Jelly rubber is safe to use with both water based and silicone lubricants, however do be aware that it does have a chemical taste and can have a rubbery smell.
Latex
A fairly new toy material on the market and is unique in the sense of the flexibility that it can provide. As such, it is often used for inflatable toys as well as latex and fetish clothing. We hate to point out the obvious but if you're allergic to latex, stay away!
It is perfectly safe to use with water based and silicone lubricants, indeed silicone lubricant is often used on latex to bring it to a superior shine with a glossy and wet-look finish. Latex does require a bit of love and care during maintenance and cleaning. It is very important that you spray it with anti-bacterial toy cleaner before and after each use. Some will require renewing powder to ensure that the rubber stays soft an flexible.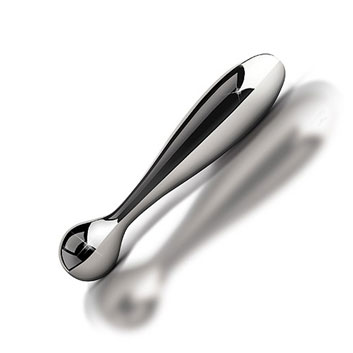 Metal
A lot of people will ask, why they should use steel sex toys, wouldn't Metal is very similar to glass sex toys. Metal can be made into some very beautiful shapes, and their reflective material can be simply astonishing. They are non-porous, skin safe and compatible with both silicone and water-based lubricants. It should be noted that metal sex toys are often solid and will be quite heavy and rigid.
Not everyone will like this sensation, however there will be others that like the sensation. Steel is completely odourless and tasteless.
ABS Plastic
Acrylonitrile butadiene styrene is the most common material used in sex toys. Don't panic though if that's a bit of a mouthful – it's generally abbreviated to ABS plastic, and it's the favourite material for vibrating bullets, standard vibes and most things in between.
ABS handles vibrations really well, and you can be generally assured that any toy that you're using that is made of an ABS plastic will allow strong and firm vibrations. Durable, and extremely easy to clean. It is a firm material. Though there are some toys out there with an ABS plastic base, and a rubber velvet finish if you're after something with a bit of squish.
Realistic Feel
Also referred to as UR3, RealSkyn, RealFeel, Fanta flesh Cyberskin and a variety of other variants which are pretty much the same word for the same elastomer based material. Each company alters the formula though, so a cyberskin is not necessarily going to feel like a fanta flesh.
Even across some of the fleshligt products if you were going to buy fleshlight some of them will also have slightly different textures, though this relates more to the colours used. If you like a particular branded 'realistic feel' material then you should stick to that brand. Realistic feel toys are all designed to give you a lifelike sensation, and they'll even retain heat for a realistic body temperature feel.
The only downside is that realistic feel needs to be cared for, water based lubricant only, and they will require a thorough cleaning as realistic feel toys are porous. Remember to apply a light coating of cornflour or renewing powder after cleaning and before storage to ensure that they retain their silky smooth texture.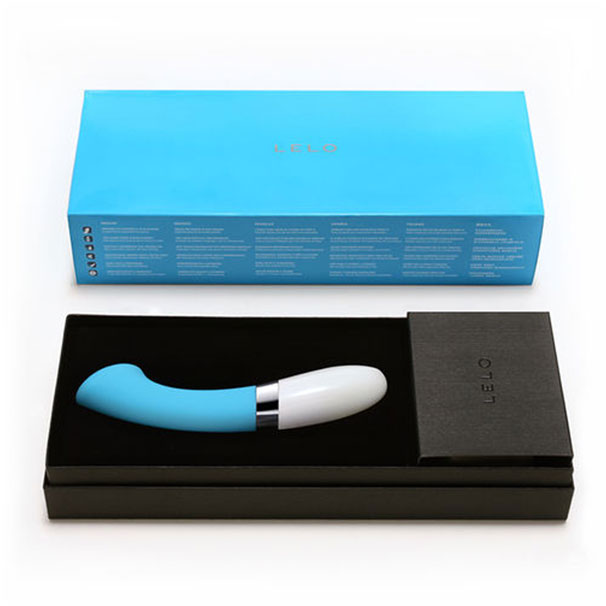 Silicone
Considered to be the luxury material of sex toys and is used by some of the best toy companies in the world including, We-Vibe, Lelo, and Jimmy Jane. It has been championed by companies, sex reviewers and users alike for its unbelievable qualities.
Silicone is hypoallergenic, and it does not retain any bacteria, and as such there are an increasing amount of sex toy companies that are switching their production preferences to silicone. It's exceptionally easy to clean, has a soft velvet finish and if looked after correctly will last an incredibly long amount of time – to the point where you may throw it in the trash out of boredom before it breaks!
Silicone toys should not have silicone lubricants on them as they can break down the toy, so please ensure that you're using water based lubricants only to ensure that your toy lasts the distance.
Skin-Safe Rubber
To combat the issues surrounding the use of chemicals and phthalates in sex toys, companies have recently turned to body safe rubber, also known as TPE or TPR (thermoplastic elastomer/rubber).
Unlike the jelly rubber, this rubber has not undergone the same treatment and exposure to chemicals that are cause for concern with jelly rubber. If you're unsure about how to tell the difference between jelly rubber and TPR/TPE, have a smell.
You'll generally be overwhelmed by the smell and perfume of Jelly Rubber whereas the Body safe rubber will only have a slight odour.
Aesthetics – Liking How It Looks
Some people will tell you that you do not need to like how a toy looks and that you'll fall in love with it once you use it.
Anyone that says that about toys obviously doesn't understand the aesthetics of art in the sense that not all art is going to give you an emotional reaction towards it. Instead of achieving light and illumination, you might be completely bored. Therefore, to anyone that sprouts that nonsense at, ask them to sleep with a person before falling in love with them and seeing how that goes.
The thing is, that if you're not liking how it looks – then you're not going to be able to relax to the point where you get the most pleasure out of it.
Like the Way It Looks
That's not to say that you should throw a tantrum if it doesn't come in pink, but if you genuinely find yourself unnerved by the shape, texture, or just the general look of the toy, by all means say a polite thanks but no thanks.
When it comes to sexual pleasure you need to be relaxed, and if you're lying there thinking about how ugly the toy is that you just bought then you're never going to be in the perfect position to enjoy it for what it is.
to try the fun and funky vibrators, you just need to like the look of it. Try squeezing out an orgasm when you're not in the mood and you'll know what I mean. Buying, or receiving a toy which you find to be distasteful might even turn you off toys for good, and that is simply heinous! Make sure that you get something which appeals to you.
You might not be able to get the rabbit encrusted with rare rubies, or in a jet black. But you should be able to find something with which you find to be agreeable. Another thing which a lot of people don't necessarily associate with sex toys – is that if you find yourself to be 'attracted' to the vibrator. And love how it looks, then you're engaging the sense of desire and mystery and that's something that's going to make your orgasms stand out.
Trust me, I know it sounds weird but when it comes to orgasms and arousal, we all know that the brain is remarkably fickle creature.
Listen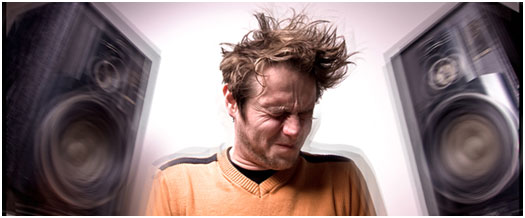 When you're visiting one of our Adult Lifestyle Centres we are more than happy to take a toy out of the box, put some batteries in it and turn it on for you. (Don't panic, we will always wear gloves when handling toys that aren't testers) What this will allow you to determine is not only the intensity of the vibrations but also the noise level which the vibrations cause.
This is important for several reasons.
Firstly, if you're in a household, such as your parents or with roommates, then you're not going to want to announce to the entire household that you're in your bedroom getting off. It's important to remain discreet – with lower end toys you'll find that the more powerful it is, then the louder that it's going to be. In your high end, luxury toys you'll find that this won't necessarily be an issue.
The point is that you don't want a vibrator that sounds like you're revving up a V8 every time you use it. This is going to be distracting, and it's not going to let you get into the moment. You might find it hard to meditate when you're surrounded by crying babies or barking dogs, and this is exactly the same mentality that needs to be applied to sex toys.
Noise Distractions
Like with the aesthetics, if you're getting distracted by the noise of the toy then you're not going to enjoy it as these distractions might be associated with guilt, embarrassment, or maybe even politeness. Whatever the reason, if noise is going to be an issue for you – make sure that there is none by getting a toy that has minimal noise.
With these simple five tips you should be in a much better position to be able to correctly buy your first sex toy, or, in the event that you've bought a few and not found one that you liked, be in a position to buy a sex toy that you actually enjoy. In the case that you're still a little confused. We've compiled a secondary list of common mistakes people make when buying sex toys.
In other words, let us make the mistakes for you so that you don't have to! This list has been compiled from various staff and stories that we've heard and we're more than happy to share them with you in the attempt that you don't make the same mistake as well!