Stimulators For People With Disability – Disabled  Enjoy Sex More
In our previous article we explored which sex products that assist With Disabilities position enhancers in order to engage in sexual activity. These types of products may be helpful to some, and not others.  We will explore devices that can be used by people with disabilities that will provide direct stimulation with the primary aim of achieving climax and orgasm.
Lets highlight both male and female toys, as well as toys which can be used by both. We've tried to use sex toys that can be considered to be versatile, in the sense that they can be used for masturbation and with a partner. They may also be useful for same sex partners (and mature gay men or lesbians with limited hand movement), heterosexual couples, people with disabilities, or people suffering from erectile issues.
However at the end of the day they'll share one thing in common; the sexual freedom for the people using them.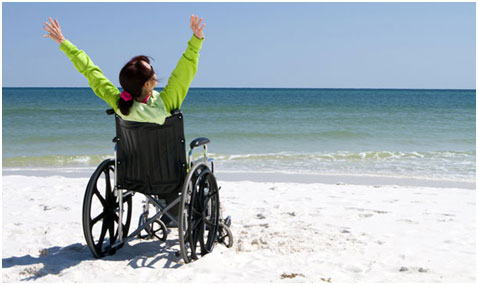 Assist With Disabilities
Some people also have disabilities, or have been involved in accidents which has resulted in a loss of sensation to their genitals. People who have no sensation to the genital region can still be aroused, and may still be able to have orgasms in other parts of the body. During arousal there are many changes to the body.
For a male, the most noticeable aspect is an erection, but this is not the sole indication of arousal. Increased heart rate, fluttery sensations in the chest, nipples may also become harder, increased breathing, sex flush may appear on various parts of the body and a multitude of other reactions may occur that indicate arousal.
Loss of sensation in the genitals does not mean that they can no longer have sexual activity. There's still the enjoyment of visual erotica, and a lot of gay men with disabilities will still purchase visual erotica for their enjoyment.
Sex Toys For People With Disabilities
Indeed, 'The Ultimate Guide to Sex and Disability', (ed. Kaufman, Silverberg and Odette, 2003) makes the suggestion that the although the brain may not be able to detect feeling in one particular part of the body.  Since all parts of the body have assigned areas in the brain, stimulation of a corresponding body part with a brain location next to the 'unfeeling' part – this may result in sympathetic sensation. It might be considered a long shot, but there's nothing to lose, and you're certainly going to have a lot of fun trying!. This is by no means an exhaustive list and should only be used as a general recommendation to some of the more popular toys which have benefits to individuals with disabilities.
These toys are but a small range of stimulators out there which can be used by people with disabilities. Many toys can be manipulated, or have differing benefits depending on the type of disability that one has, and for the best advice to be given, it is recommended that you visit our wheelchair accessible, ground floor store at Kogarah, located within the area of Sydney where our friendly staff can assist you.
BodyWand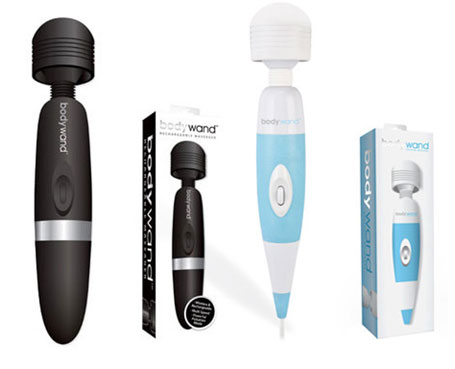 Time and time again one of the most popular toys when it comes to people with disabilities is some variant of the Hitachi/body wand. The wand has been in existence for over 30 years and has a dedicated following which whom praise it and simply cannot ever live without it.
The thing is that wands in general make excellent toys for people with disabilities and they can be used for masturbation, or they can be used in conjunction with a sexual partner as a sexual aide for couples which can be incredibly difficult if you're both experiencing a bit of a sexual dry spell.
Whilst some are corded directly into the mains, Bodywand, and PalmPower, have produced both mains powered and rechargeable versions – all without sacrificing the power from either model. Bodywands are not genital specific, meaning that they can be used on males and/or females, and they can provide some intense and explosive stimulation.
If You Are Unable To Sustain An Erection
We have read stories about males who have been unable to sustain erections long enough to climax being able to climax through stimulation with a body wand. Whilst this does assume that the genitals have sensations, it can be used as an alternative to something like a Fleshlight or other erection-abled geared product.
The other great thing about BodyWand's is that they can also be used as an all over body massager, the large bulbous heads are ideal for direct muscle relaxation, and it also means that there does not need to be a specific amount of coordination in order to be able to hit the spot.
As such they're ideal not only for individuals seeking sexual release, but also a product to create intimacy and closeness for themselves, or with other people. They are the perfect accompaniment to watching an erotic film together, or for massages and physical closeness.
Perfect Hand Control Is A Must
The handles are generally long and as such, people do not need to have perfect hand control in order for them to maintain contact with the body, nor will they be forced to contort themselves in uncomfortable shapes to reach intimate, or hard to reach areas. The only down side to some of the wands is that they can be quite large and heavy.
BodyWand's and PalmPowers are of an accessible weight to hold, and they also have different sizes and shapes to consider, including waterproof versions! (BodyWand only).
BodyWand's and PalmPowers are producing a number of attachments which include penetrative attachments, and soft masturbatory attachments used to facilitate the stimulation of penises. Something to take note of should be the level and intensity of the vibrations.
We have heard that some people find the vibrations to be too intense and this can set off muscle spasms in their hands or cause pain in their wrist and joints during holding.
It would be beneficial to visit an Adult Lifestyle Centre
See their range before committing to purchasing one, to ensure that there is maximum comfort, satisfaction and usability. There are several variants on the market ranging in shape, size, weight and strength which will be suitable to a wide variety of people. Brands to keep an eye out for include BodyWand, and the Palm Power Massager; the latter being smaller in size and also comes in both a rechargeable and corded version.
Tongue Vibrator/The Accommodator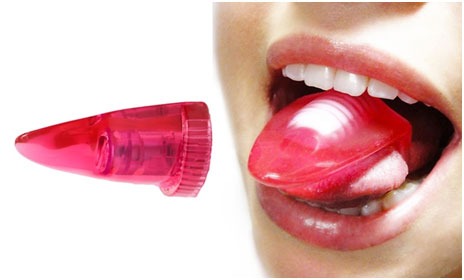 The tongue vibrator is a unique and lightweight toy that is discreet and useful. It is attached to the tongue and can be used to assist with oral stimulation during sexual play. The vibrations will take care of the stimulation for both partners without the need for excessive, or overt muscle movement.
It requires no hand movement, however assistance may be required for someone to attach it to the tongue, though this is dependent on an individual's hand mobility. Further care should also be taken to ensure that the vibrator is kept away from the teeth and does not vibrate against the teeth as this can damage the enamel.
There are several variations out there
Some of which may be corded so that the vibrations can be controlled by the hand in a power pack attached to the waist, and others simply require pressure for the vibrations to be activated. There are others still which can also be attached to the head with an elastic band for increased control and stability.  Ensure that the toy does not accidentally fall off as well as to prevent swallowing which may pose a choking hazard.
Sex Toys To Assist With Oral Sex
This is a fantastic product for people who have no issues moving their neck and upper body and still want to retain the pleasures and intimacy of oral sex. Closeness and intimacy are closely related and it is an important part of sexual relationships and sexual health.
For some people, sexual activity may not be about climax or orgasm, but simply be about the closeness involved with a second person and the intimacy with which that entails. An extension of the tongue vibrator are products like the accommodator or chin strap dildo.
These are a strap on like device which is attached to the head, and onto the chin or forehead which can be used for penetrative sex.
Despite looking a little odd it is especially useful, like the tongue vibrator, if the wearer still has movement in the upper body. Having the attachment placed onto the chin, or forehead, not only can it be easy to switch between oral sex and the toy, but it helps with the creation of intimacy.  The wearer is still in the moment and close to their partner's body, and not partaking in the activity through something detached.
The Fleshlight And Fleshlight Mount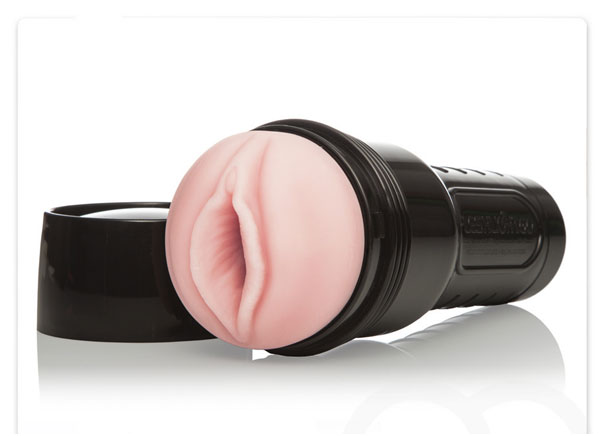 The Fleshlight is a discreet masturbator which doesn't scream sex toy as it has been designed to look like a flashlight. It is one of the most popular masturbators on the market and since its inception in the late nineties has grown to production levels which sells up to 80,000 units per month worldwide.
It is designed to be penetrated by an erect penis
Will provide a myriad of sensations during use. Each unit is hand moulded, and there are new moulds and shapes being brought out on a regular basis.
Fleshlight is also unique in the sense that it has a controllable suction cap at the end, which can be used to provide suction during use, or removed completely for no suction, depending on one's personal preferences. The Fleshlight is also lightweight and easy to clean – though people with hand mobility issues or severe hand arthritis may need assistance.
Make Sure You Clean The Inner Sleeve
Once finished all one needs to do is to take out the inner sleeve of the Fleshlight, wash out any remaining particles with the specified cleanerand leave it to air before putting it back into its storage case.
Another great benefit of the Fleshlight, is that it doesn't necessarily have to involve hand use. The Fleshlight can be placed between mattresses or pillows to hold it steady, though this will require the ability to thrust or alternatively can be used in conjunction with a sex swing.
Alternatively, the Fleshlight can be used in a Fleshlight furniture mount, or it can used in the shower with a suction cup mount as well, so long as the correct safety equipment is installed. If used in the shower ensure that there are safety grips provided so that no one loses their balance.
Fleshlight can also be used as a masturbatory device
or in conjunction with another partner who can move the device manually in order to achieve climax. The downside to this device is that it is considered to be a manual device that being that there needs to be movement in some form in order to provide stimulation and achieve climax. This can be in the form of the thrusting of the body, or through manual hand movement of the device.
Auto Masturbation
If a manual masturbatory device is not feasible, because mobility is restricted and one is unable to provide movement to a man masturbatory device, then an automated masturbatory device might be needed. The autoblow2, cyclone and the Storm masturbator are all masturbators which provide movement and/or suction by themselves through battery power, rechargeable batteries (plugged in like a phone) or directly mains powered.
A consistent problem with the majority of these devices is the noise level, and if privacy is a must, the auto-masturbation models may not be desirable. Despite this set back, they do work exceptionally well – with the majority of users rating them highly for the sensations that they provide.
It is difficult to pin point a specific brand as there are a few out there
But research will serve you well if you're looking for something that will provide an automated and hands free stimulation. They can be a little cumbersome to some people, so do take note of the sizes and whether or not you'll need to hold the device with hands.
Some do come with handles, and others can be easily placed onto a bench top. For the most part, they do not require any manipulation after the device has been turned on and the penis inserted. In all the variations on the market you'll find that the sleeves are removable, and it should be noted that over time they will need replacement due to the friction that they endure.
Fun Factory: Pulsators
The Pulsator range by Fun Factory is a new and unique toy. Whilst there have been 'thrusting' devices in the past, these have usually been plagued by issues. If the device is held too tightly then the gears have the potential to grind themselves away meaning that the toy is often short lived.
The pulsators have overcome this issues by using magnets. It should be noted right here, that because of the use of magnetic pulses in this toy it is not recommended for anyone that uses a pacemaker, or is attached to equipment that would be adversely affected by magnetic pulses that could affect a pacemaker. There is a metal weighted ball in the pulsator device which is activated through magnetic pulses and what this does is that it reacts very much like a shake-a-weight, ultimately providing an exhilarating thrusting motion.
The toy is used as a penetrative device and can be utilised through several ways, hand held or with hands free. Indeed this type of toy would work exceptionally well in conjunction with a swing, or any other positioning device which adds to the idea of weightlessness – as once in position no further body movement needs to occur.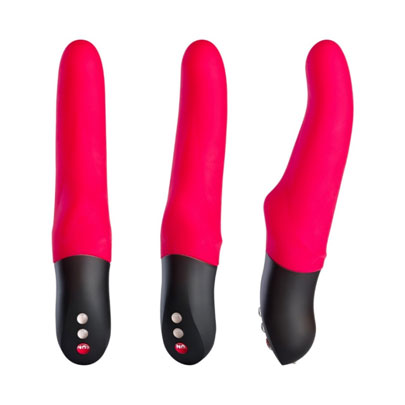 Pulsators My Be Too Heavy For Those With Arthritis to Hold
It should be noted that the pulsator range can be considered to be heavy and may not be suitable for people with severe arthritis, muscle spasms, or chronic pain in the wrists. However, in order to be truly sure it would be recommended that one visits an Adult Lifestyle Centre to have a feel of the weight, and shape of one of the testers that they will always have on display.
Fun factory have released a range of different shapes and sizes
Have created toys for vaginal and anal usage thereby catering to all people and sexualities. Some of them, in particular the anal pulsator The Stronic Zwei with a diameter of 1.7″, are quite thick so alternatively one of the smaller sizes, such as the Eins(1.4″), can be used with the anal band at the base of the toy. (An anal band is a large-ish ring/flare which is added to the base of any vibrator allowing it to be safely used for anal play).
Their newest model, the Bi-Stronic fusion combines both an incredibly powerful vibrating arm sitting atop the normal shaft and pulsating action. The bi-Stronic can be used for vaginal or anal play with the vibrating arm providing stimulation to either the clitoris or the perineum respectively.
The pulsators make a fantastic masturbation toy that thrusts, or it can be used in conjunction with a partner to provide a thrusting sensation in the absence of bodily thrusting. They come in a variety of fun colours, and are made with a medical grade silicone, meaning that they are hygienic as well as being body safe.
Sex Machine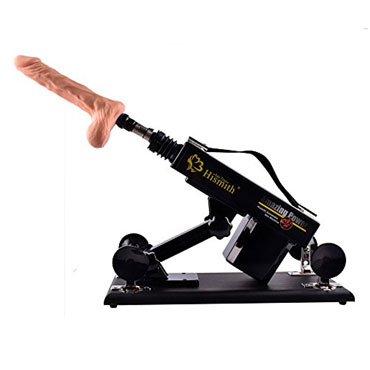 The history of the sex machine is an interesting one, and sex machines are often thought to have been the world's first vibrators. Initially used to treat the condition of Hysteria, the first sex machines were steam powered, with the engine being held in a separate room to the device.
Also known as a 'fucking machine'
Sex machine is a motorised and mechanical tool which is used to mimic thrusting and replicate sexual intercourse and other sexual activities. There are a variety of different sex machines, however they are generally categorised into two genres; either penetrative or extractive.
A penetrative sex machine uses rotational or reciprocating force to provide directional motion to the shaft which is generally tipped by a dildo, however most sex machines now have masturbator attachments. An extractive device is more uncommon, but is similar in use to a milking machine which can then be attached to the breast, penis or any other body part desiring 'milking'.  Can also be used by people with disabilities.
Sex Machines Require Dildos Or Masturbators To Be Attached
Most sex machines have a variety of attachments ranging between a variety of differently sized dildos and masturbators which can be attached to the 'arm' of the machine, and once turned on, everything is pretty much automatic.
They work exceptionally well in conjunction with swings or with sex furniture, as you will need to be able to maintain a particular position in  order to get the most out of a sex machine. The arm of the sex machine can be manipulated into 'aiming' at a particular angle but again, the ability to remain in a fairly stable position is important.
Previously sex machines were considered to be cumbersome and pricey
(Think entire engine in a separate room), but modern sex machines can be made easily and much smaller. Even so, assistance is generally recommended and required to move both the machine, and the individual into position before turning the sex machine on.
Smaller variations exist which could instead be utilised and will fit neatly onto the end of a coffee table. Sex machines are ultimately devices which can be used as a replacement to and/or alternative to penetrative sexual intercourse for either a male or a female.
As well as penetrative sexual activity, as mentioned earlier some sex machine arms can have a masturbator attached to them, similar to a Fleshlight, which can create a hands-free auto-masturbation/auto jerking off toy.
Advancement of the Sex Machines
They've certainly come a long way from the first steam powered sex machines which were unreliable, noisy and very costly. They're not much more accessible and this has been possible due to the ease of production and cost effectiveness as previously, many people would consider them a little pricey to just use them as masturbators.
There are also some sex machines which have two arms which can be utilised by couples and individual people with mobility issues who want the benefits of multiple attachments for either double penetration. Or in the case of a male both penetrative and masturbator arms at the same time.
Sex machines, like swings, should be considered to be exceptionally versatile, and can be utilised by people with most forms of disabilities.