Bondage Gags – Guide To BDSM Gear Australia
At the adult lifestyle centres we have a huge range of Bondage Gags. Have a read here if you also want some information on whips blindfolds and handcuffs.
Gags
A most loved accessory with the BDSM community. These devices have been with us for many years yet are still a toy normally grasped by the more brave among us.  Individuals who love the force and power disparity S&M can provide in consensual sexual connections will undoubtedly discover a utilization of our range of gags.
Which one's for you?
The ball choke? Breathable? Spider gag? Perhaps the butterfly gag? Set the mood and tone correctly with a gag.
When To Use a Bondage Gag?
A gag could worn during sexual bondage and BDSM role-play.
The gag wearer may be regarded as the submissive partner. While the one not wearing one may be regarded as the dominant partner. People derive sexual pleasure from gags and enjoy the restraint in their mouths. This takes away the ability to fully open the wearer's mouth. And deprives the wearer the ability to talk while in sexual activities.
Some users take advantage of a gag to do the opposite. Some may help keep the mouth open for longer and wider for instance the Jennings Gag. Which actually helps pry the mouth apart. S
Some non-wearers may get sexual pleasure from hearing the moans of the wearer. Safety measures should be considered while using a gag. Because it does limit the airways. If the gag is solid, it is impossible for the user to breathe from their mouth.
Common for gag users to create a safe word or action to let their partner know when to stop.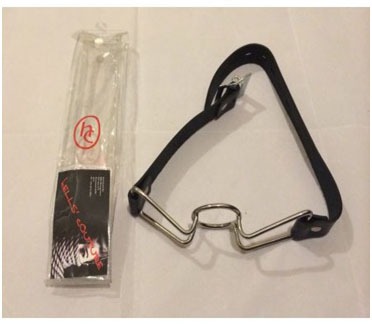 There are 27 different types of gags all of which are unique and have different characteristics. 
TYPES OF GAGS
Usually made out of a hard plastic or silicone and many sizes can be found. The ball gag is usually solid but there are models where air can pass through with little holes. If a wearer is using a solid ball gag, they may be limited in their facial expressions, speaking capabilities and breathing.
A bit gag is styled like the bit used in a bridle for a horse, making these great accessories for adults into Pony Play.
Wing-shaped gag, that is usually inflatable by means of a rubber bulb attached to the ball.
Instead of the gag being tied around the wearers mouth, a cleave gag is wrapped inside the wearers mouth. This is easier to disassemble after use and the wearer may still have the ability to communicate.
Detective / over-the-mouth (OTM)
This style has become popular from movies as when you see a victim gaged and tied up, this is the style portrayed.
Bandit / over-the-nose (OTN)
This gag covers both the nose and mouth to complete the sensory deprivation. While using a gag in this nature, suffering will take place. This is not recommended for first time users but rather the more devoted BDSM aficionado.
This gag's purpose is to embarrass or humiliate the wearer. This still acts as a gag but non tradition items are put into the wears mouth such as a dildo or vibrator, a feather duster or even shoe.
Consists of a funnel with a tube leading from its spout into the mouth. This gag has been popular with watersport enthusiasts.
This is simply someone's hand in place of a traditional gag.
Surrounds the head, with straps for the most part secured by clasps attached at the back. Head tackles are most ordinarily used to give purposes of connections to secure different sorts of gags, for example, ball muffles, bit gags, gag muffles and ring gags. These types of gags may be used for other forms of bondage as well or may be used simply for their psychological effects.
Uses a hand pump to inflate the gag with air to expand on its original size.
These have more texture and may be knotted around the user's mouth. Air may still pass into their mouths.
Using multiple smaller gags to create the effect of one bigger gag.
The opposite of a traditional gag. A medical gag such as a Jennings Gag helps the user open their mouth and give unparalleled access to the mouth.
Users may attach this gag around both their mouth and neck however, this could cause chocking. Nothing is inserted into the wear's mouth however it still restricts air flow.
Similar to what sports professionals use.
This is strapped around the wearer's face with consideration to the mouth, neck, nose and possibly the whole face.
Similar to a baby's pacifier, these are usually soft and smaller in size.
Similar to a muzzle gag, except it lacks a head harness.
Represents an erect penis which is inserted into the wearer's mouth. To keep the gag in the mouth, it is usually paired with a ring, muzzle or panel gag attached to a strap that buckles behind the head.
A ring gag is similar to a ball gag, except that the ball is replaced by a hollow ring. Oral sex may be performed if the opening is wide enough. Rings may be interchangeable to accommodate the wearer and the size of the object used for entry.
This is the use of rope in order to gag the individual. Japanese silk rope has been popular for this type of restraint.
The ring has hooks on the sides so as to keep the wearer from flipping the ring horizontally in their mouth. Unlike the ring gag which can be easily flipped. A spider gag is essentially functional and non-decorative
The wearer's mouth is stuffed with non-traditional items used as a gag. For example socks, scarfs, panties or food.
This requires the use of sticky tape to clamp shut the mouth. This would be the easiest gag to put on however, may be the hardest to take off. The tape may get stuck onto skin and hairs and caution should be used when removing this type of restraint.
Uses a tube instead of a ring which allows for easy breathing, but still not much access to the mouth.
This is a device to hold open the mouth.