Nipple Clamps and Accessories
Something a bit sensual and a bit unusual, no longer constricted to the BDSM set. Nipple clamps have advanced into a bedroom sex toy standard for Australians of all persuasions.
A nipple clamp can simulate a person playing with, sucking or biting nipples. They can be used by either gender, though men's nipples are usually smaller and so they will need a smaller nipple clamp. Popular amongst people who enjoy bondage as part of their lovemaking or sexual foreplay.
Adjustable nipple clamps can heighten pleasure and can be tweaked as the man or woman reaches sexual peak or orgasm. Pair it with some whips blindfolds and handcuffs to really up the ante. Some people like to use adjustable nipple clamps and nipple chains during masturbation to increase their self-pleasure or simulate someone being with them.
How Do Nipple Clamps Work?
Nipple clamps help torment by limiting blood stream from erect nipples by applying weight to them. Individuals can get sexual joy from seeing Nipple braces connected. They are utilized as a part of some BDSM exercises, for example, tit torment.  Utilization of Nipple clips is frequently depicted in the media as deviant or kinky sexual conduct.
There are many types of nipple clamps
Ranging from clover clamp, tweezer brace, and clothes pin style.
For use on yourself, a successful application requires the user to locate a balance between the measure of agony and joy by tweaking the level of weight applied by the clip. Clamps are commonly utilized as a part of sets and connected by a chain.
Weights may be swung from the clips to expand the weight on the nipples, and to discourage the clipped individual from moving abruptly. For instance, bouncing when spanked or paddled. Since this would make the weights swing and increase the pain.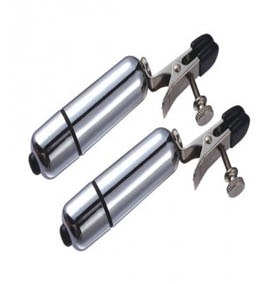 Men may also use nipple clamps on their testicles
Their most sensitive area of their genitals, for the feeling of pain and testicular torture.  Some cock rings have additional rings attached so one may easily attach their nipple clamps to their cock ring.
When their body moves around, the clamps will move causing a little kink that is sure to help get them off.