In today's day and age, people seem to be a lot more open-minded when it comes to all things sex-related like Exotic Sex Toys.  It seems that more and more people are starting to open their minds to new experiences. Being willing and ready to experiment with sexuality in a way that was previously unthinkable.
It is certainly true that there is still a lot of taboo surrounding certain sexual experiences, fetishes and activities. But even these are starting to be more and more tolerated.
Exotic Sex Toys
With society having such an open mind when it comes to trying new things sex-related, it is only natural that this kind of development would eventually extend itself to sex toys as well.
Sex toys have been around for quite sometime. They are still very popular to this day, for very obvious reasons. With sex toys, you can spice your and your partner's sex life or simply enjoy it while you're alone at home (or in public if that is your thing).
Even though the more traditional sex toys do tend to get the job done. People are starting to crave something different, something more exotic. Almost as if the regular dildos and the best fleshlights are just not cutting it anymore. Today we will talk about how you can explore your senses with exotic sex toys that can be used by couples and singles alike!
Fucking Machines
Sure, this kind of machine might sound like it is directly related to a dildo. In many ways, it truly is, however, it goes way beyond that.
A "fucking machine" is an automated machine that will push the dildo in and out of the person. As if someone was truly having sexual intercourse with them. It might be quite scary for some people but hear us out.  This machine does not have a mind of its own. It is still to be controllable by the person themselves. Therefore, they will have full control over how hard and fast they want the machine to go and when they want it to fully stop.
Main appeal of this sex machine is how well it can be paired up with other fetishes. In particular, with bondage or domination/submission play. By having your partner tied up or completely submissive in one spot, you can have this machine fucking them as fast and hard as you would like. Which makes for some really kinky, enticing and unforgettable moments!
This machine in particular is a fantastic way to get your submissive and dominant side out in the best possible way.
Massage Candles
Foreplay is at the core of many exciting and fulfilling sexual sessions. After all, when you build up the tension and sensuality for so long, you are bound to have an absolutely explosive reaction when you actually get to the action.
Erotic massages are a great form of foreplay. One that can truly enhance the sense of touch and sensibility. With massage candles, this kind of activity can be a whole lot more intense. Unlike what many people tend to fear, melting candles on the skin doesn't actually hurt at all. It is a hot sensation, yes. But nothing that will either cause damage or even be remotely unpleasant.
Massage candles in particular are very good for this because they are specifically created to provide a soft and moisturizing feeling to the skin. To have a soothing effect and smell and, of course, to be incredibly safe to use.
Now, with that said, it is obviously not all about the candles themselves.
In order to truly get the most out of massage candles, you should always get the room feeling right.  By turning down the lights, lighting some candles (not the ones you'll be pouring over your partner, of course). And getting some soft, sensual tunes in, you can explore every single inch of your partner's body as you pour the candle wax on their skin. Massage it in, relaxing every tense muscle while arousing other parts of their gorgeous body.
Swing Your Way To Paradise
This might be the kind of "toy" (or should we say asset) that is definitely more suitable for those who take their sexual life a lot more seriously.  Kind of people this sex toy is suited for isn't for casual. But for those that are looking to truly make the most out of their sex lives with their partners and, of course, that don't fear trying new things!
A sex swing is often depicted as an extremely kinky thing. It is oftentimes related to a lot of taboo as well however, it shouldn't have to be that way.
A sex swing is nothing more, nothing less than a swing intended for sexual use. It is a swing that puts your partner (or yourself) in a position that will facilitate penetration (or whatever else you want to happen).  A great way to truly get your partner comfortable while easing things in, so to speak.
A sex swing can also offer the dominant and submissive aura that a lot of couples are very fond of because, after all, one will have to be sitting on the swing, at the mercy of their partner.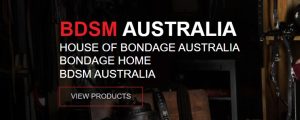 Sex Swing
If you have the space for a sex swing in your bedroom (or sex dungeon), it is always a great idea to get one. Not only does it offer a lot of comfort, flexibility and a sense of domination and submission. But it also facilitates exploration and trust between the couple. It is also one of the sex products that assist with disabilities position enhancers.
Overall, there are many different kinds of sex toys on the market, with more and more coming out every single day. With technology advancing the way it is, we can only wait and see what the future might bring to the sex toys world. And how it will benefit both you and your partner. Sex does not have to be the same every single time.
Explore all the different experiences that sex has to offer and give yourself to pure pleasure. You can find a huge range of adult toys in Australia at adult shops online.